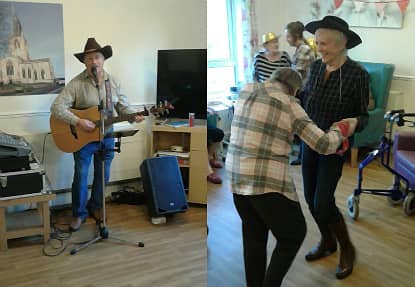 Riverdale Care Home, recently dusted off their cowboy boots, to get ready for a wild day!
The Derbyshire care home recently played host to a Barn Dance, which invited residents and their families for a day of Wild West fun! With everybody donning their best plaid shirts and cowboy hats, everybody looked straight out of a classic western film, ready for both kinds of music… Country and Western!
The main attraction of the event was Country singer, Pete, who played a variety of country classics from Jonny Cash to Dolly Parton, which had everybody moving.
"He was fantastic, everybody absolutely loved him. He had staff, residents and their families all up and dancing." Said Laura Simpson, Activities Co-Ordinator at Riverdale.
As well as the music, there was also Apple Bobbing and plenty of food and drink on offer. Everybody tucked into hotdogs and burgers, all washed down with their choice of cider, tea or pop! Families paid £5 for entry whilst kids paid £2.50, which paid for the food and drink, and the rest went straight to the resident funds!
The day was a huge hit, leaving everybody with just one question on their minds… when will the next one be? Due to the success, Riverdale have made plans for more days like this in the New Year.
To keep up to date with news from the home, follow us on Facebook and YouTube