Christmas Arts and Crafts at Middleton Park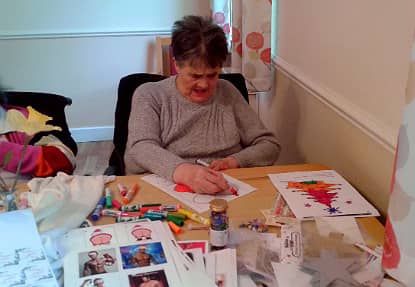 With the festive season upon us, folks at Middleton Park lodge have been getting creative, with a variety of different crafting sessions.
Excitement is building at the Leeds care home, where residents have been participating in numerous Christmas crafting sessions. The sessions provide everything from making Christmas cards to, colouring in, to making their own baubles to decorate the homes Christmas tree.
"Josephine, one of our residents, attends every single one of our Christmas crafting sessions. She particularly liked making the baubles and can't wait to get them onto the Christmas tree." Commented Karen Brooke, Activities Co-Ordinator at Middleton Park Lodge.
These sessions provide a stimulating environment for reminiscence and discussion, the arts and crafts alongside the Christmas music being played, opened up a lot of discussion about how they used to celebrate Christmas when they were children. Reminiscing about opening presents on Christmas morning and playing out in the snow, the sessions ended up being very therapeutic and mentally stimulating.
To keep up to date with news from the home, follow us on Facebook and YouTube