Archers Court Take an Oomph! Trip to Knife Angel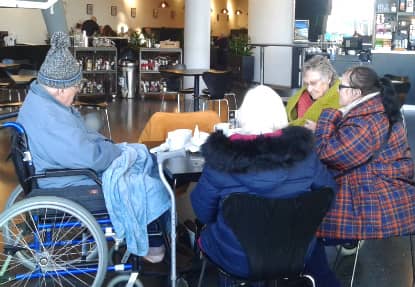 Residents from Sunderland Care Home, Archers Court, hit the road recently as they took a trip out with our wellbeing partners at Oomph!
A group from the home visited the Knife Angel, a 27-foot art installation sculpted out of seized blades as a statement against knife crime.
Staff and residents alike were in awe of the huge monument and were taken aback by the number of knives that were used and what it represented.
"It was sad but absolutely amazing to see such a giant monument", commented Doreen, one of the residents on the trip.
Shortly after, residents and staff headed for a sit-down and a hot drink to get away from the winy and reflect on the amazing artwork they had just seen.
To keep up to date with news from the home, follow us on Facebook, Twitter, Instagram and YouTube.