University Of Sunderland Students Perform For Archers Court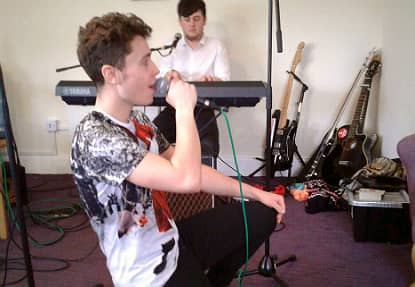 Everybody at Archers Court Care Home was rockin' around the Christmas tree, thanks to a recent performance from students at the University of Sunderland.
The students put on quite a show for the residents, playing memorable hits for the 60's, 70's and 80's.
This was too good of a performance to keep to themselves, so the staff at Archers Court invited their sister home, Archers Park, to enjoy the show.
The familiar songs got the residents up and dancing along to the music. One resident, Dorothy, was having a fantastic time, dancing with Activities Co-Ordinator, Julie Royal. Dorothy then approached fellow resident, Ruth and held her hands so that she was able to join in.
"It was incredibly nice and sociable of Dorothy to hold Ruth's hands so that she could be included, it was a joy to see", commented Julie.
Everybody also had the opportunity to get involved with the music. Various small instruments such as, tambourines and shakers were handed out, so that everyone could enjoy playing music, as well as listening and dancing to it.
"Everybody thoroughly enjoyed shaking their shakers and tapping on their tambourines", added Julie.
After the success of the activity, the students have been invited back to the home to preform again and become one of Archers Court's community links.
To keep up to date with news from the home, follow us on Facebook and YouTube.