Residents from Paddock Stile Manor Care Home Head to Buzz Bingo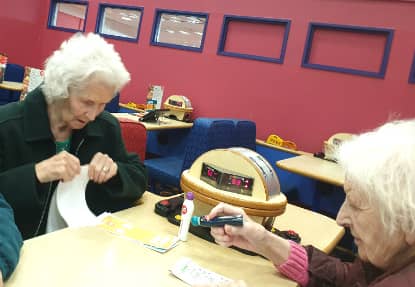 Staff from Tyne & Wear, care home Paddock Stile Manor decided to treat residents to a visit to Buzz Bingo for some gaming fun.
Everyone was very excited about this visit as only one of the residents had visited the bingo hall previously, so this was a new and interesting experience for the rest of the group. The group spent the morning at Buzz Bingo and played a total of 4 games.
Everyone got involved and didn't even realise where time had gone as they were having endless amounts of fun. The staff at the hall were very hospitable and helpful along with the members of the public who were also present there. They all spoke to the residents and got them involved which was very appreciated.
There were smiles all around as the group headed back to the home, they couldn't stop talking about how much fun they had, and how they can't wait to do it again! "Well even though I missed most of the numbers, I have still had a great morning, it was such a laugh!" Doris said.
To keep up to date with news from the home, follow us on Facebook, Twitter, Instagram and YouTube.