Residents at Riverdale Enjoy Afternoon Tea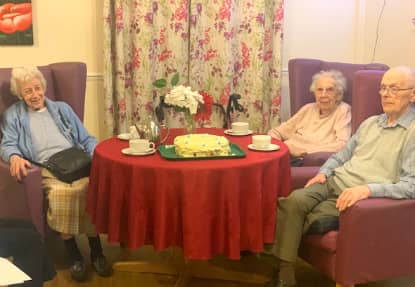 Staff from Chesterfield care home, Riverdale, treated the residents by putting on a spread of sweet treat.
Residents were very surprised with this gesture of kindness from the staff and couldn't wait to sit back, relax and enjoy some yummy treats. The homes Cook Amy, and Kitchen Assistant, Daniella had been hard at work baking away and created a lovely cake for the residents.
As the residents tucked into the cake they requested Christmas songs to be played in the background, they sang along to the music with big smiles on their faces. It was a relaxing and peaceful evening for the group as they sat back and recalled how Christmas used to be when they were younger, this left them in great spirits and they can't wait for all the festive fun that awaits them this Christmas!
To keep up to date with news from the home, follow us on Facebook, Twitter, Instagram and YouTube.