Primary School Visit at Nesfield Lodge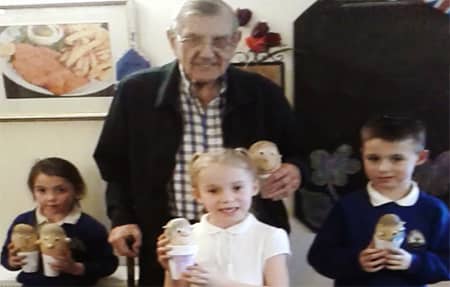 Residents at Nesfield Lodge enjoy regular visits from their local primary school.
Every Monday and Tuesday afternoon, the home is visited by a group of children form Sharp Lane Primary School, for an afternoon of discussion groups, tabletop activities and arts & crafts sessions.
The sessions are invaluable for both the residents and the children and have been going on for a number of years.
"Over the last 3 years, Nesfield Lodge has built a fantastic relationship with Sharp Lane Primary School, from the initial introduction between the children and our residents there has been a natural growth of interaction and stimulation by increasing social awareness", commented Danielle Bird, Activities Coordinator at Nesfield Lodge.
During their last session, residents and school children enjoyed an arts & crafts session making their own 'grass heads'!
The two generations chatted and laughed the afternoon away, exchanging funny stories and happy memories.
"The School children make great company! It's always such good fun when they come to visit", Commented Ted, one of the residents at Nesfield Lodge.
"Visiting Nesfield lodge is a great way to build on social skills for our children and even the residents! It bridges the gap between generations", explained Jemma Thompson, Learning Mentor at Sharp Lane Primary School.
The children bring all of their energy into the home and with it comes a lot of smiles and laughter.
"It has a great impact on the resident's well-being when the children visit, they feel reminded of their youth." Added Danielle.
To keep up to date with news from the home, follow us on Facebook and YouTube.