Nesfield Lodge Have Visitors from Sharp Lane Primary School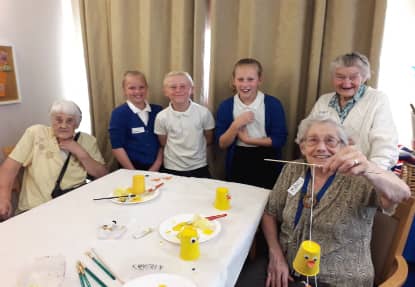 Residents from Nesfield Lodge welcomed the children in to their home with big smiles
The children visited the home after their summer break and residents were very excited to host them, children from the school have been visiting the home twice a year for almost 5 years now and their visits never fail to make our residents smile. They visit the home and engage in stimulating activities which promote health and well-being for our residents and help the children to gain life skills and share experiences.
Danielle Bird (activities co-ordinator at Nesfield Lodge) said having the school children makes such a difference for so many of our residents at Nesfield Lodge, brightening up their day! Nesfield Lodge has also been in partnership with the Hen-power project for around 5 years and on a Tuesday afternoon, Sharp Lane Primary school children visit to take part in the hen-power project to 'hengage' in arts activities and hen-keeping to promote health and well-being and reduce loneliness.

As part of our hen-power project 7 of our residents have recently spent a session making puppets with the children for our upcoming puppet show which both residents and the children have been working really hard on to present to other residents at Nesfield Lodge.
To keep up to date with news from the home, follow us on Facebook, Twitter, Instagram and YouTube.