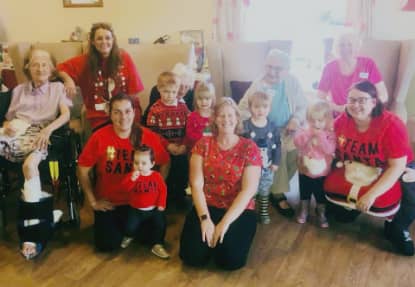 There was something special in the air, when two very different generations join for a magical experience.
Residents from the West Yorkshire care home, Castleford Lodge, were delighted to be joined by the children's musical group, Mini Maestros.
Mini Maestros, is a group that works with children, to help develop musical and dancing skills. Recently, Mini Maestros have been holding their classes at Castleford Lodge, letting the residents join in with the singing and dancing activities.
"Recently we have been visiting our friends at the care home, where we spend one hour singing and dancing together! It's an absolutely amazing experience seeing all the residents smile." Commented, Emily Jobling, who helps run the Mini Maestro sessions.
"We had our own mini party, and I can't express how humble I felt seeing the children interact with the residents. It's an absolute honour to be a part of every single resident's lives that come and join our class." Added Emily.
"It's a magical experience for children, and residents alike and it goes a long way to enhancing the well-being of our residents," said Tracey Lee, Activities Co-Ordinator at Castleford Lodge.
Activities like these provide residents with an amazing social experience, a great way to improve basic motor functions and most importantly, are a lot of fun for both the younger and older generations.
To keep up to date with news from the home, follow us on Facebook and YouTube.