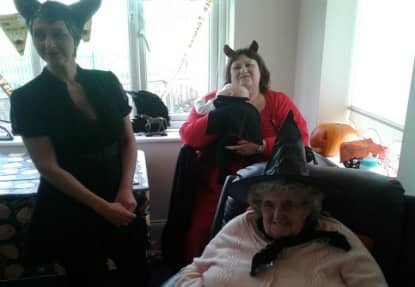 Who you gonna call? Archers Court! Ok, maybe that's not quite as catchy but that didn't stop the wonderful people at Archers Court from bustin' moves and ghosts at their recent Halloween party.
Before the party could begin, residents and staff got to work making their spooky decorations and carving pumpkins. Some were happy to get their hands a bit dirty and carve their own pumpkins, scooping out the insides and carving all kinds of funny or scary faces into them. Whilst others, preferred to kick back, relax and let the fantastic staff do it for them (whilst giving strict instructions of course!)
Families were invited to join in the fun and arrived in some fantastic costumes! Staff were also looking the part in their costumes and there was an abundance of spooky masks, hats and wigs for anyone wanting to get involved too! The party saw four generations of one family all in the same room.
"It was amazing to see so many join in and everyone looked wonderful in their costumes!" Said Julie Royal, Activities Co-Ordinator at Archers Court.
With everyone ready and looking the part, a singer arrived in the afternoon and got the residents singing along to old classics and even some Halloween favourites.
So all together now… Who you gonna call?
To keep up to date with news from the home, follow us on Facebook and YouTube.