Christmas Tree Fun at Riverdale Care Home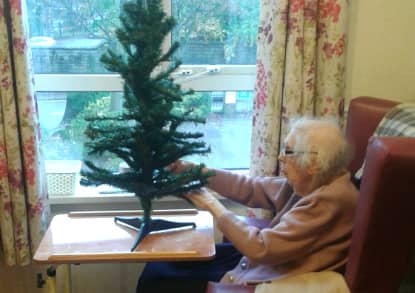 Residents from Chesterfield Care Home Riverdale decided it was time to decorate the tree and oh what fun they had in doing so.
The homes local Tesco store very kindly donated lots of Christmas decorations and biscuits to the home and they decided to put these to good use by decorating their tree whilst enjoying a nice cup of tea.
Staff and residents both got involved and transformed their plain tree, residents spread the branches out whilst listening to some Christmas classics. The group favourite was rocking around the Christmas tree, this had everyone singing at the top of their lungs with great big grins on their faces.
Residents are looking forward to decorating the rest of the house and can't wait for the Christmas festivities to begin!
To keep up to date with news from the home, follow us on Facebook, Twitter, Instagram and YouTube.