Castleford Lodge care home takes the nature trail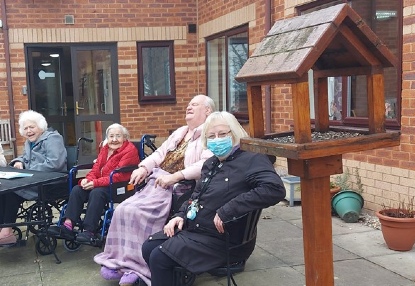 Staff and residents at Castleford Lodge Nursing Home were on high alert as they joined in the fun of the RSPB Big Garden Birdwatch 2022.
Everyone was super enthusiastic to participate in the event, and staff helped residents spot all the different varieties of feathery visitors to the garden and log their information to send back to the RSPB.
The RSPB's Big Garden Birdwatch is an annual event that relies on wildlife enthusiasts to help spot, record and report the number of garden birds that land in gardens or local green spaces across the UK.
Christina Rachita, Home Manager at Castleford Lodge, said "The bird watching activities certainly raised everyone's spirits and gave us all something positive to focus on. We talked about the birds that came into the garden, where they came from and some of our residents remembered their childhood days when they played in their own gardens. They all loved being outside in the fresh air and around nature."
Find out more about care homes in West Yorkshire.