Archers Park Watch the Show "When I'm cleaning windows"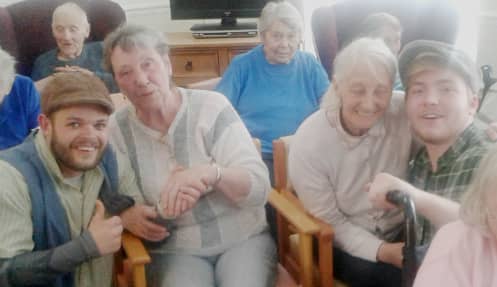 Archers Park care home had the pleasure of watching the northern production show "When I'm cleaning windows."
Residents at the Sunderland based home hugely enjoyed themselves and all got involved with the show. There was laughter all around and one of the actors in the show, Brandan said "This audience has been the best we have performed to!"
Making the day extra fun some residents were joined by family members and they all watched the show together. Two residents in particular got very involved with the show, Joan and Belle thoroughly enjoyed themselves and loved talking back and forth with the actors.
"I really enjoyed it, it had me laughing, I hope they come back again soon," said Belle. The show was meant to last 1 hour however, everyone including the actors were enjoying themselves so much that it ended up lasting 75 minutes!
Joan with a big smile on her face said, "it was the best thing I've seen for a long time, I could not stop laughing." We look forward to seeing what the residents get up to next!
To keep up to date with news from the home, follow us on Facebook, Twitter, Instagram and YouTube.