Archers Park Take an Oomph Trip to the North East Land Sea Air Museum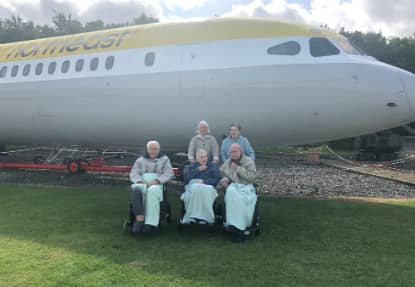 Sunderland based home Archers Park took 5 of their residents on a trip out to the North East Land Sea Air Museum.
Residents were very excited to go on this trip as the museum has many exciting things to see including the former Aircraft Museum (NEAM), military vehicles collection, and the North East Electric Traction Trust.
The trip consisted of a lot of reminiscing about how transport used to work in the past, residents shared stories of what they could recall and couldn't believe how many things have changed over the years. John M had lots to reminisce about and shared his stories with the others, at the end of the day he told the staff, "What great memories, I really enjoyed my day out."
One of the group Gordon used to be in the air force so being at the museum bought back many memories for him, his favourite part of the day was going to the replica cockpit! The group then stopped off for a hearty lunch of fish and chips, not forgetting the side of mushy peas!
Leaving the home and going on these trips is very beneficial for residents as it lifts their mood and gives them the chance to socialise, John M was smiling the whole day and said: "I love to get out, it was such an enjoyable time."
To keep up to date with news from the home, follow us on Facebook, Twitter, Instagram and YouTube.