Archers Court Takes a Very Special Trip Down Memory Lane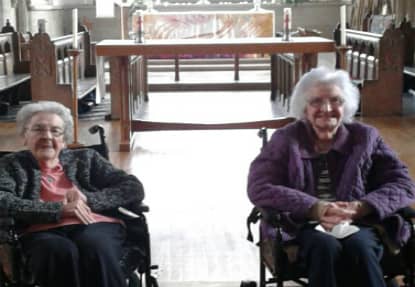 It was a very special day for Archers Court Care Home in Sunderland as residents hopped aboard the 'oomph' coach and took a trip down memory lane.
Two of the homes residents Ruth and Mary suggested visiting Bishop Wearmouth Church (now known as the Minster) which is where they both got married.
 Making the day extra special whilst at the church Ruth told everyone, "Today would have been my 66th wedding anniversary, I was married in this church on 30th of May, 1953, thank you for bringing me here on such a special day". There were emotions all round and both Mary and Ruth were very grateful and happy to be able to go back to the church and relive the memories of their special days.
Whilst there, the group enjoyed a cup of tea and a teacake in the church café and Mary shared with the group, "It was a wonderful day, I enjoyed my wedding at this church".
To add to the excitement, residents also got the chance to explore the local area and visit the places where they lived and grew up. Mary and Ruth enjoyed sharing their memories with the rest of the group and everyone enjoyed their day out.
To keep up to date with news from the home, follow us on Facebook, Twitter, Instagram and YouTube.