Archers Court Residents Enjoy Gardening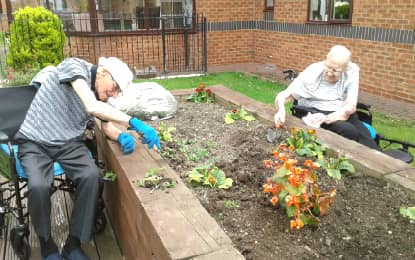 Two of the residents from Sunderland based home Archers Court spend some quality time together gardening.
New resident at the home Jack is a keen gardener and even owned his own allotment where he grew flowers and vegetables. At Archers Court there is a raised bed in the garden, it was suggested that Jack could do some weeding which he was more than happy to do. Similarly, Tom is also a big fan of gardening however he has not been outside of the home in 3 months, so this was a special day for him.
Tom decided to give Jack a helping hand and they both went out to the garden. They worked their magic and everyone in the home was very impressed with their work. Tom said "this has been lovely, enjoying the sun and fresh air." Whilst Jack couldn't stop smiling and said "I will come back this afternoon to hoe it and rake it, after I have had a nap."
Being outdoors was a very positive experience for both the residents as it encourgaed them to get some fresh air and socialise which is great for both their physical and mental health.
To keep up to date with news from the home, follow us on Facebook, Twitter, Instagram and YouTube