Archers Court Care Home honours war hero residents in Remembrance Day ceremony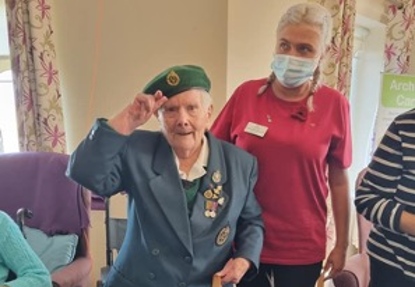 Staff from Archers Court Care Home in Farringdon, Sunderland recently marked Remembrance Day by honouring all those who fought during the war, including two residents in their own care.
As well as commemorating Remembrance Day by saluting to the fallen during the two-minute silence, watching the royal parade and making and wearing homemade poppies, staff also hosted a war-themed quiz and invited local wartime singer 'War Vera' to perform songs from the residents younger days.
Resident Francis Atchinson played tribute by proudly wearing her very own cooks uniform and medals and was often seen sparking conversation with fellow residents and staff about her own time in the war. She told Home Manager, Sharon Easterbrook-Smith, "I joined the army at 18 in May 1942 as a Junior Cook, peeling hundreds of potatoes for the troops. After enrolling, I was sent to Richmond to train as a Head Cook and I really enjoyed keeping the troops fed for all those years. Today I'm wearing my upside-down stripes medal which I was awarded for my time working in the barracks." Francis took pride in her medal and badges and wore them throughout the day while she shared memories with resident Margaret Temple, who was also only 18 years old when she enrolled in the Auxiliary Territorial Service (A.T.S).
During the day's activities, Margaret reminisced about her time as a Telephonist, stationed across the UK and told staff how much she loved her time in A.T.S, not only because she was supporting her country but because during her two-year contract, she met and fell in love with her first husband. Sharon commented, "Hearing Francis and Margaret talk about their time in WW2 was fascinating to everyone here at Archers Court and it reminded us that we have so much to be grateful for. Margaret's stories about how she met her husband were especially popular within the home as her romantic memories were like those from a movie. We hope we did them proud and honoured all the fallen soldiers during our Remembrance Day activities."
Find out more about our care homes in Tyne & Wear.