Pampering at Paddock Stile Manor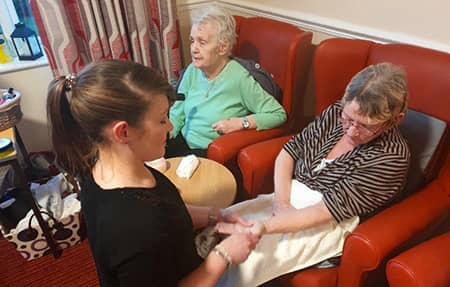 It was officially ladies night at Paddock Stile Manor, when a representative from The Body Shop came to visit, with a variety of products for the residents to try out!
Residents spent the evening unwinding, having some drinks and being pampered with facials and massages, whilst listening to soothing music.
With all of the different soaps and products being used, there was a relaxing aroma in the room that the residents loved and made them feel like they were in a spa.
"The ladies loved all of the different smells and all of the pampering that they got", commented Karl Fazakerley, the Home Manager at Paddock Stile Manor.
"As well as the massages and different products that the ladies received, everyone loved taking the opportunity to just kick back and relax with a glass of wine, it was a wonderful evening", Karl continued.
The Ladies Night turned out to be a great success and was a fantastic opportunity for the residents, their families and the members of staff to get together and have a peaceful evening.
To keep up to date with news from the home, follow us on Facebook and YouTube.