Lansbury Court's National Care Home Open Day Celebrations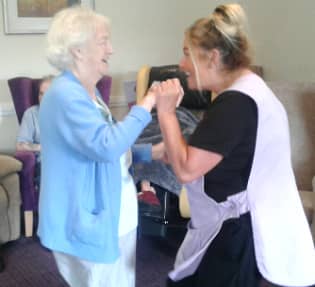 Lansbury Court Care Home got involved with National Care Home Open Day celebrations.
This year's theme was focused around arts & crafts which was perfect for our residents who enjoy being creative and artistic. Residents created cards for their family members and friends and also painted canvases.
To finish the event off entertainer Michael visited and charmed the group with his own renditions of songs from the 1960's. This got residents on their feet and there was laughter all around, Susan and Dora said that "It was so lovely to dance along with friends."
One of the residents Rita, got in to the spirit of the event and performed a duet with Michael, he was very impressed by Rita's performance and she loved being able to get involved and have some fun.
To keep up to date with news from the home, follow us on Facebook, Twitter, Instagram and YouTube.