A Christmas Carol at Ashlea Mews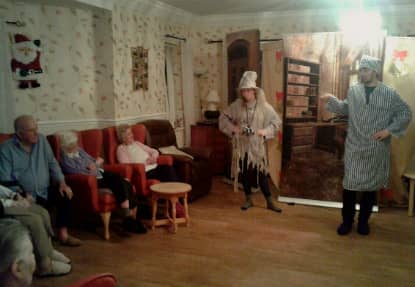 Staff, residents and their families were visited by the ghosts of Christmas past, present and future as everybody enjoyed a showing of the classic pantomime 'A Christmas Carol'.
A local Travelling Theatre Company arrived at Ashlea Mews to put on a fantastic show for the South-Shields care home. The group came prepared with an array of props, costumes, and their own set and got ready to perform a fun, musical take on a timeless classic.
With everybody seated and excited for the show to begin, it was time to start the entertainment.
There were certainly no Scrooges in the audience, as smiles could be seen and laughter heard from all round the room. "Our residents absolutely loved the panto! Being able to sit in the comfort of their own front room, and watch a professional standard play was an absolute joy!" said Andrea Arthur, Activities Co-Ordinator at Ashlea Mews.
"The ghost of Christmas Present had a very silly costume and was really funny!" Added Doris, one of the residents at Ashlea Mews.
The show ended with a huge round of applause and one last sing along.  More theatre groups will definitely be invited back again!
To keep up to date with news from the home, follow us on Facebook and YouTube.