Lansbury Court's Christmas Party!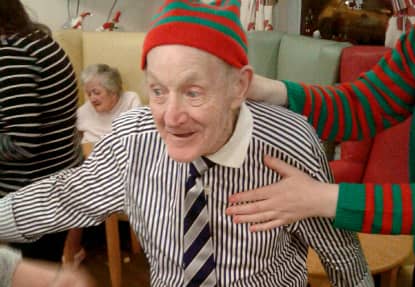 Whilst everybody up and down the country are enjoying Christmas parties, our residents have also been getting into the Christmas party spirit!
Northeast home, Lansbury Court, recently hosted their very own Christmas party! Residents and staff were dressed up in their best Christmas knitwear and festive hats and got into the holiday spirit.
The entertainment for the day was singer Michael, where he sang a variety of Christmas classics for everybody to get up and bust a move! Once everybody had danced to their hearts content, it was time to relax a little, and enjoy singing along to some traditional Christmas carols and Hymns.
"It was great to see everyone get up and dance, even residents that couldn't, still had a huge smile across their faces and were clapping their hands", commented Christine Callaghan, Activity Co-Ordinator at Lansbury Court.
"We had a lovely afternoon dancing", said Rita, "Michael was a fantastic singer!" added Michael who are both are residents at Lansbury Court.
To keep up to date with news from the home, follow us on Facebook and YouTube.