St Helen's Hall & Lodge Enjoy Some Pimmies Pies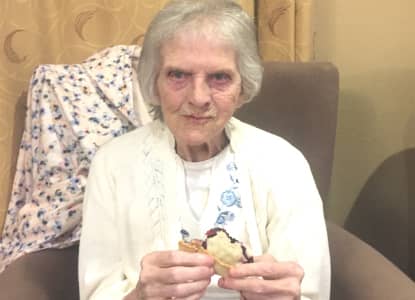 This week for their food tasting session, St Helen's enjoyed some Pimmie's Pies!
This was a blast from the past for the residents as in the local area there used to be a shop called Pimblets where all the locals used to go for a pie, however this shop closed down years ago. The staff of St Helen's recently discovered that the owners of Pimblets had opened up another small pie shop, Pimmies Pies, this made the group very happy and they couldn't wait to treat themselves to a pie!
Marion was particularly excited about this, she usually struggles to socialise but this bought her out of her shell and allowed her to reminisce with the rest of the group. She couldn't wait to dig in to her meat and potato pie and then finished her meal off with a blackcurrent tart.
Whilst enjoying their meal residents shared stories about the shops that they used to visit and what their favourite pie is! This meal encouraged the residents to eat more as they hugely enjoyed indulging in a pie.
To keep up to date with news from the home, follow us on Facebook, Twitter, Instagram and YouTube.