Lymewood Court's Day Out with Oomph!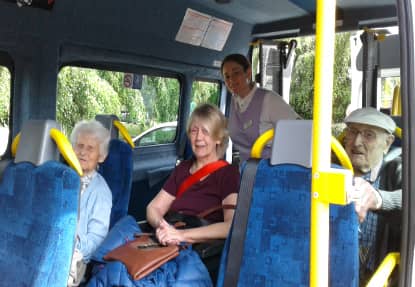 Residents at Merseyside Care Home, Lymewood Court, were very happy to hop aboard the Oomph bus and it did not disappoint!
They couldn't wait to get to their destination Parbold Hill but the journey there ended up being just as exciting as the visit. Resident Terry used to be a bus driver so shared stories about which roads he used to drive along and couldn't believe how much the roads have changed.
This gave all the residents the chance to reminisce about the local areas that they used to live in and visit as they drove past them. Once they reached Parbold Hill they had a great time exploring, the location is very scenic and is the perfect place to have a picnic. The group used binoculars and saw significant focal points around the area. Peggy told everyone "I used to love going for trips out through the countryside, this reminds me of my days out on the charabanc!"