Lansbury Court Care Home Gets Musical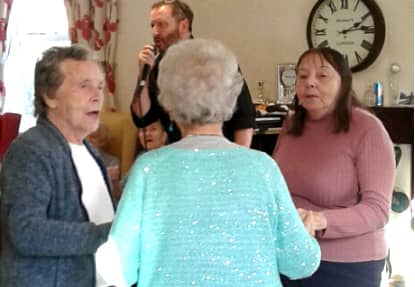 Lansbury Court Care Home welcomed singer Marcus into the home for a musical performance.
Marcus came into the home ready to charm the residents as he got his dancing shoes on. He took centre stage as the residents watched on, he spent the afternoon performing hit songs from the 50's and 60's as residents sang along.
It wasn't long before residents were up on their feet dancing away, showing off their fantastic moves with big smiles on their faces. Marcus impressed everyone with his lovely voice and choice of songs and will be welcome back into the home anytime.
Sue and Nancy told staff, "what a lovely afternoon it was, I can't wait till the next time we have a singer in the home."
To keep up to date with news from the home, follow us on Facebook, Twitter, Instagram and YouTube.