Chinese History Lesson at The Grange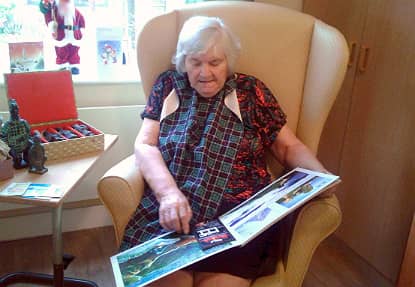 They say you learn something new every day, and for the residents at The Grange Care Centre in Derbyshire, their recent history lesson proved just that.
Occupants at The Grange had a brief history lesson, which explored the fascinating topic of China's Terracotta Army. Lesley, one of the Domestic staff at The Grange, was recently lucky enough to visit this historic Chinese landmark and kindly brought back a variety of souvenirs for residents to look at.
Books, figures, maps and brochures were amongst the trinkets that were brought back from China by Lesley. One of the residents Ada, took a particular interest in them. Ada loved holding and looking at all of the different figurines and admired the artwork on the boxes that they came in.
Along with Activity Co-Ordinator Lyndsey, residents sat down and read one of the books together, learning all about the origins of the Terracotta army. "It's all absolutely fascinating, I would love to go to China one day and see it all." Commented Ada.
Following on from the interest that was shown by the residents, The Grange plan on incorporating the theme into their future arts & crafts sessions and will even have a go at making their very own clay statues.
To keep up to date with news from the home, follow us on Facebook and YouTube.