Wildlife Animals Come to Ashlea Mews Care Home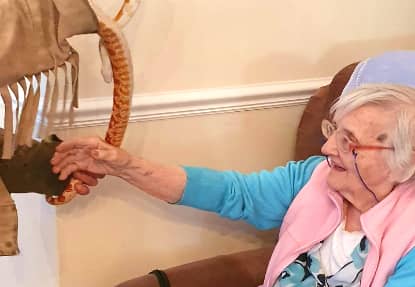 Residents from Ashlea Mews Care Home were delighted to be visited by a variety of weird and wonderful animals.
With many of the residents being animal lovers they were very excited about this special visit,.
Residents were introduced to a variety of different animals ranging from Snakes to Meerkats to Foxes. Although some of the residents were a little nervous they all loved touching the animals and their nerves disappeared in no time, Danny said, "I was expecting the snake to be slimy but it wasn't at all."
Steve, who looks after the animals, spoke to the residents about each one of them and they were amazed by some of the facts. The visit left residents reminiscing about their own pets and how much they love animals, they were in great spirits for the rest of the day and couldn't stop talking about how much they had enjoyed the visit.
To keep up to date with news from the home, follow us on Facebook, Twitter, Instagram and YouTube.