We have a winner in the Great Orchard Christmas Cake Off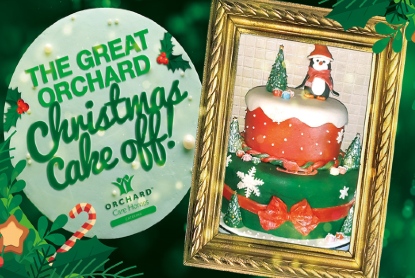 In the true spirit of Christmas, we have been running a Cake Off competition for staff and residents across our 24 care homes in the North of England and the Midlands.
With some amazing entries, it was hard to decide on a winner but as the sweet aroma of cake subsided through the corridors, a winner was announced.
Pauline Nolan, a carer at Langfield Care Home in Middleton, Greater Manchester, pulled out all the stops and created a real work of cake art. Pauline is a keen baker and can often be seen baking cup cakes with the residents of Langfield.
Picking up her vouchers for the win, Pauline said "I am delighted to have won this year's Cake Bake Off – it's always a pleasure cooking for our residents as we are all one big family".