Warrington Rally Together for Green Park Care Home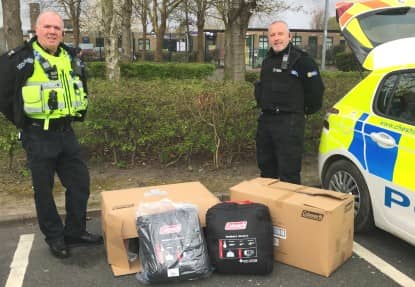 Staff from Green Park Care Home in Warrington have been spoilt by their local community with an abundance of gifts.
On the Kensington Unit  of the home, staff have been working hard to create a cosy breakout area for them to relax in. The home's local councillor very kindly arranged for two of the area's policemen to collect donations for the staff to create the ultimate relaxation space.
The local community have gone above and beyond and shown that their generosity has no bounds, from sleeping bags to thousands of pounds worth of soft furnishings they have gone all out to ensure that staff will be comfortable and settled.
The biggest surprise came when staff opened one of the boxes and found both a PlayStation 4 and a Wii console, these have been donated by an extraordinarily kind member of the local community and everyone at the home couldn't be more grateful.
Home Manager at Green Park, Mel told the police officers, "I am absolutely speechless at everyone's generosity, we are all so grateful to them and you."
To keep up to date with news from the home, follow us on Facebook, Twitter, Instagram and YouTube.