Green Park care home delivers sensational experience for its residents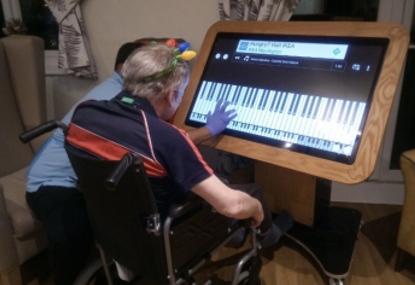 Green Park Care Home in Warrington has purchased a very special piece of equipment that is bringing joy to all its residents.
They were able to buy the state-of-the-art sensory interactive tablet from a fundraising sponsored 6-mile walk which raised £4900. The new equipment can be used independently or for group activities and offers a variety of fun activities such as quizzes, colouring, virtual concerns. It can also be used to connect residents with the loved ones via virtual communication platforms, making it an incredibly valuable investment for the home.
Sensory stimulation has been shown to have a variety of benefits for the elderly and especially those living with dementia. It is an important part of care to ensure that activities are provided which can help involve the senses to improve a person's quality of life.
The tablet has already received a warm welcome from all the residents at Green Park, in particular the Fishing and Bowls apps. Resident Frank Pumford said "I really liked fishing and enjoyed using the app. It brought back memories of my hobbies that I enjoyed before coming to the home."
One resident, Neil, who was an exceptionally good musician in his day, was listening to the music playing via the Piano app and amazingly was able to play and remembered some notes.
Deputy Manager at Green Park, Grace Oderinde, was delighted to see the smiles on the faces of her residents, saying "This tablet is a great piece of equipment and benefits all our residents' abilities and needs. It has certainly had an impact already and we know it will continue to provide enjoyment for both residents and staff alike."
Find out more about our care homes in Cheshire.