Eaton Court celebrate McVities Biggest Virtual Afternoon Tea Party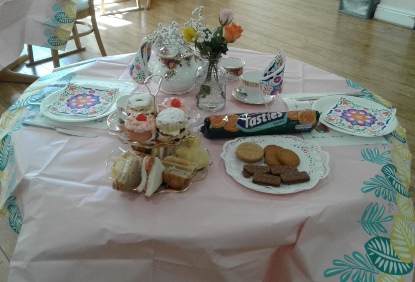 Residents and staff at Eaton Court put on a yummy spread to take part in McVities Biggest Virtual Afternoon Tea Party. 
They set out all the tables with lovely pink tablecloth and placed flowers in vases on top. Then came the time to lay all the sweet treats out, on offer were cupcakes, scones and of course McVities biscuits.
Residents were delighted with the spread and couldn't wait to tuck in. Prior to the event residents had made their own placemats which they used to eat on. It wasn't long before they sat with their cups of tea and enjoyed the treats. The day was an overall success with all the residents agreeing that they had a great time.
Find out more about our care homes in Lincolnshire.