The Prince's Trust Visit Lansbury Court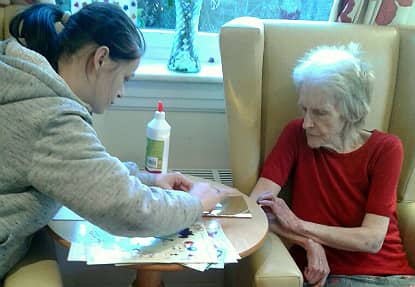 Lansbury Court in Sunderland have recently been visited by the Prince's Trust, for some Arts and Crafts and a singsong.
Residents were delighted when a group of young people, from the Prince's Trust came to visit. The Prince's Trust, is a charity for young people between the ages of 11 and 30 that are unemployed or struggling in school. The charity aims to help change their lives by developing their skills and boosting their confidence.
The group arrived and got into the festive spirit by making Christmas Cards with the residents. Everybody was deep in conversation, sharing his or her stories and experiences, which proved to be extremely beneficial for everyone.
But arts and crafts wasn't all the residents had to look forward to as the Prince's Trust got ready to have a big group sing along! This was particularly enjoyed by Sue, one of the residents at Lansbury Court, who adored dancing and singing along to her favourite song, 'Summer of 69' by Bryan Adams.
"It was so good of them to come and visit, I really enjoyed chatting to everybody. What a lovely group!" commented Betty.
"The interaction between two completely different generations was so wonderful to see. Hearing so many different stories, experiences and memories being shared, it was truly special. The wonderful people at the Prince's Trust are welcome to come back any time" Added Christine Callaghan, Activities Coordinator at Lansbury Court.
To keep up to date with news from the home, follow us on Facebook and YouTube.