Orchard Launches Employee Benefit App
Orchard Care Homes is supporting staff throughout the cost-of-living crisis with a full spectrum of wellbeing and mental health support, as well as exclusive discounts on travel, food & drink, health & fitness, shopping, leisure & entertainment.
How to access the app
If you are a member of staff visit https://myorchardcarehomes.co.uk and input your personal Payroll Number (Clock Number on your wage slip minus the zero at the start) and the scheme number 1104. Register your details and you are ready to go.
What benefits are on offer?
At Orchard Care Homes, our people are at the heart of our homes. Our dedicated and passionate employees help us to achieve our positive people-focused approach to care each and every day. In turn, Orchard Care Homes is proud to have launched My Orchard, the brand new employee benefits scheme, to acknowledge and reward our entire staff team who go above and beyond for the residents in our care.
The recent unveiling showcased rewards and offers on thousands of big name brands including Asda, Argos, B&Q, TK Maxx and Apple and can be used across a variety of saving solutions. Make in-store savings with the new Vectis app via the digital or physical Vectis card, visit the My Orchard Hub to make online savings or use the range of gift card options available to grab discounts at your favourite retail outlets.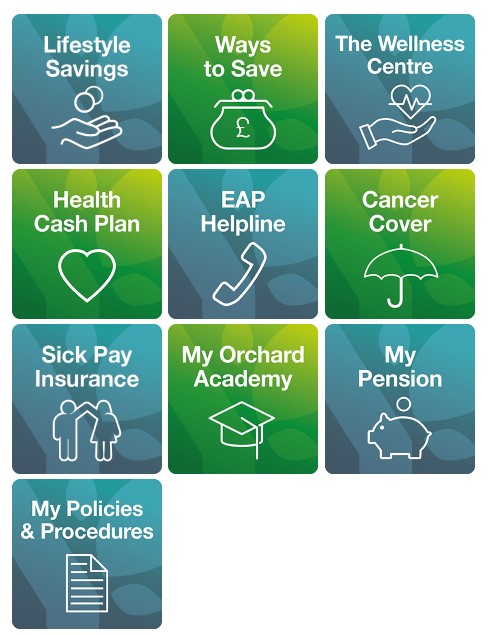 In addition to the rewards scheme, Orchard Care Homes has also developed its wellbeing support services by including a 24/7 confidential support line with qualified specialists and councillors for employees struggling with stress, anxiety or legal and financial issues. The health and safety of both our residents and staff is of the utmost importance to Orchard Care Homes, which is why we're delighted to offer the benefits of MyOrchard to all existing and new staff from the very first day of employment. 
Broadening our care
These are just some of the ways we are regularly supporting staff through the cost-of-living crisis to seek health and wellbeing support and take advantage of the thousands of discounts available. Orchard Care Homes is proud of the steps taken so far and looks forward to sharing even more employee benefits soon.