Knit and Natter at Paisley Lodge Care Home in Leeds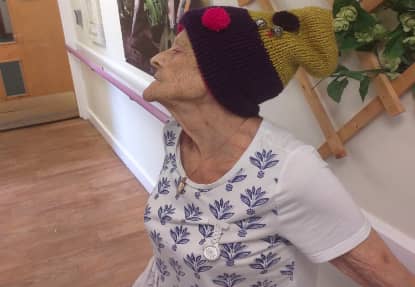 Due to there being a surplus of wool being donated to Paisley Lodge Care Home the staff decided to start a knit and natter club for the residents.
Alongside the wool, the home has also had handmade knitted squares donated to them, therefore, they channelled their creative side and got to knitting. A lot of the ladies joined in and got involved, everyone was given the choice to make whatever they wanted based upon their skills.
Residents who were keen, experienced and confident stitched their squares together and made twiddle hand muffs, these are sensory comforting tools and worked perfectly with the size of the knitted squares. Other residents gave pom poms a go and added bell buttons and ribbons to them, the favourite part of the day for some was untangling the wool balls, this also proved to be a therapeutic and tactile sensory experience.
The session was very helpful for everyone who got involved, some of the ladies shared stories about their younger days being seamstresses whilst others recalled knitting their children and grandchildren's clothing. The session was proven to be a hit and will definitely become a regular occurrence in the home now due to the positive stimulation it enabled.
To keep up to date with news from the home, follow us on Facebook, Twitter, Instagram and YouTube.