Green Park's One Year Anniversary of the Dementia+ Unit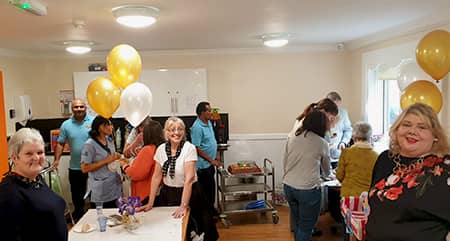 Green Park Care Centre celebrated in style by throwing a party in celebration of the one year anniversary of the Dementia+ Unit.
On the 16th of February, 2018, the Dementia+ Unit was officially opened by the previous Mayor of Warrington. This specialist unit offers 18 beds and the facilities and functionalities to support and aid those that struggle with advanced dementia and complex needs.
In order to celebrate this milestone event, the Green Park Care Centre activities team arranged a glamourous 1950's/60's themed party and invited the family and friends of the residents.
The lounge area was decorated with vinyl's, black and white balloons and bunting, in true 1950's/60's style.
Now, what's a party without entertainment? Residents were delighted by the arrival of a fantastic Elvis impersonator who put a lot of smiles on the resident's faces! There was also a selection of board games set up for everybody to enjoy, including Connect 4, and Kerplunk!
A variety of food was served in the dining room, which featured balloon centrepieces. Everyone helped themselves to the buffet which offered classic burgers and fries.
"It was so nice to see my mum having such a good time, this is such a great place for her", commented Marie Craig, one of the resident's daughters.
"It's my mum's first weekend here and she had a fantastic time thanks to all of the staff", added Jackie Daniels, another resident's daughter.
Here's to many more successful years of the Dementia+ unit!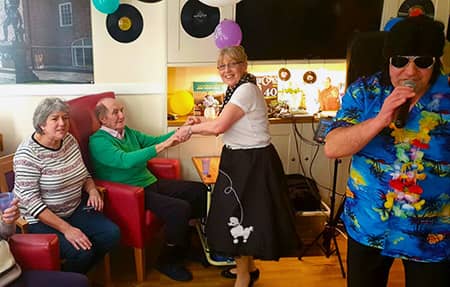 To keep up to date with news from the home, follow us on Facebook and YouTube.