Gardening at Archers Court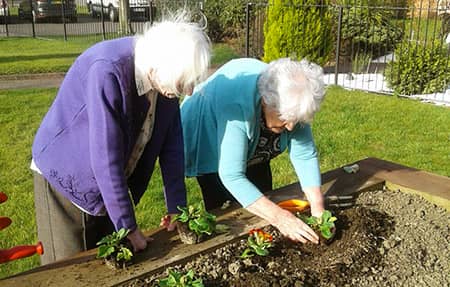 Archers Court have recently been taking advantage of the hotter than average winter sunshine.
As temperatures reached 16 degrees in Sunderland, the residents decided to utilise their inner green fingers and enjoy a spot of gardening.
Residents Betty and Doreen set out at repotting a few of the plants that had been donated by resident's families. The green-fingered duo had quite the system going for arranging and creating the new flower bed.
"You dig the holes and I will put the plants in", Doreen said to Betty
"It was clear that Betty and Doreen were something of professionals at this… So I just left them to it", joked Julie Royal, one of the Activity Coordinators, at Archers Court.
Betty and Doreen were hard at work, chatting away in the glorious winter sunshine. The afternoon brought back a lot of happy memories for the pair, as they reminisced about gardening when they were younger.
"I remember my dad showing me how to plant flowers when I was a young girl, he told me that they need to be 12 inches apart," Betty said.
Archers Court are hoping for more days of sunshine, as they have plans to add more plants and flowers to their raised garden area, all ready for the summer months.
To keep up to date with news from the home, follow us on Facebook and YouTube.