Eckington Court Celebrate 25 Years of Nicola Downs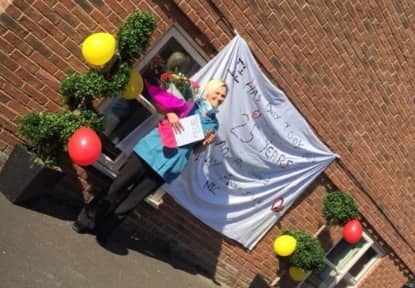 Residents and staff at Eckington Court Care Home came together to celebrate Nicola working at the home for over 25 years and it was a day filled with love and laughter.
Nicola is often described as the heart and soul of Eckington Court, she has worked across several areas of the care home, from activity coordinator extraordinaire to superstar carer, she has given her all to the home so the staff decided it was time to give back to her.
The home was decorated in her honour with balloons and banners, and Nicola was surprised with a huge bunch of flowers as she reminisced about the highlights of her career at Eckington Court. She recalled winning the Orchard Care Homes, "Making a difference award" for always going above and beyond, specifically she was recognized for the lengths she went to for a resident who was visually impaired, Nicola spends many a day with the resident, describing in great detail things such as the animals that had visited the home from the local farm.
That is only one example of the great work that Nicola does on a daily basis, she is known for her passion, kindness and determination. Home Manager, Trudy boasted, "Nicola demonstrates every day what an amazing carer can be and the lives she has changed in the last 25 years is a testament to her continued hard work. Here's to the next 25 years!"
Nicola was truly overwhelmed by all the kindness that had been shown to her and told everyone, "this job is all around caring and in this profession if you don't care, you are not in the right job. I pride myself on treating residents as if they were my own family member, that's how I have always approached my work".
To keep up to date with news from the home, follow us on Facebook, Twitter, Instagram and YouTube.