Eaton Court Nursing Home celebrates the 25th anniversary of Patty!
Patricia Dillon, Patty, of Eaton Court, recently celebrated her 25th year with Orchard Care Homes!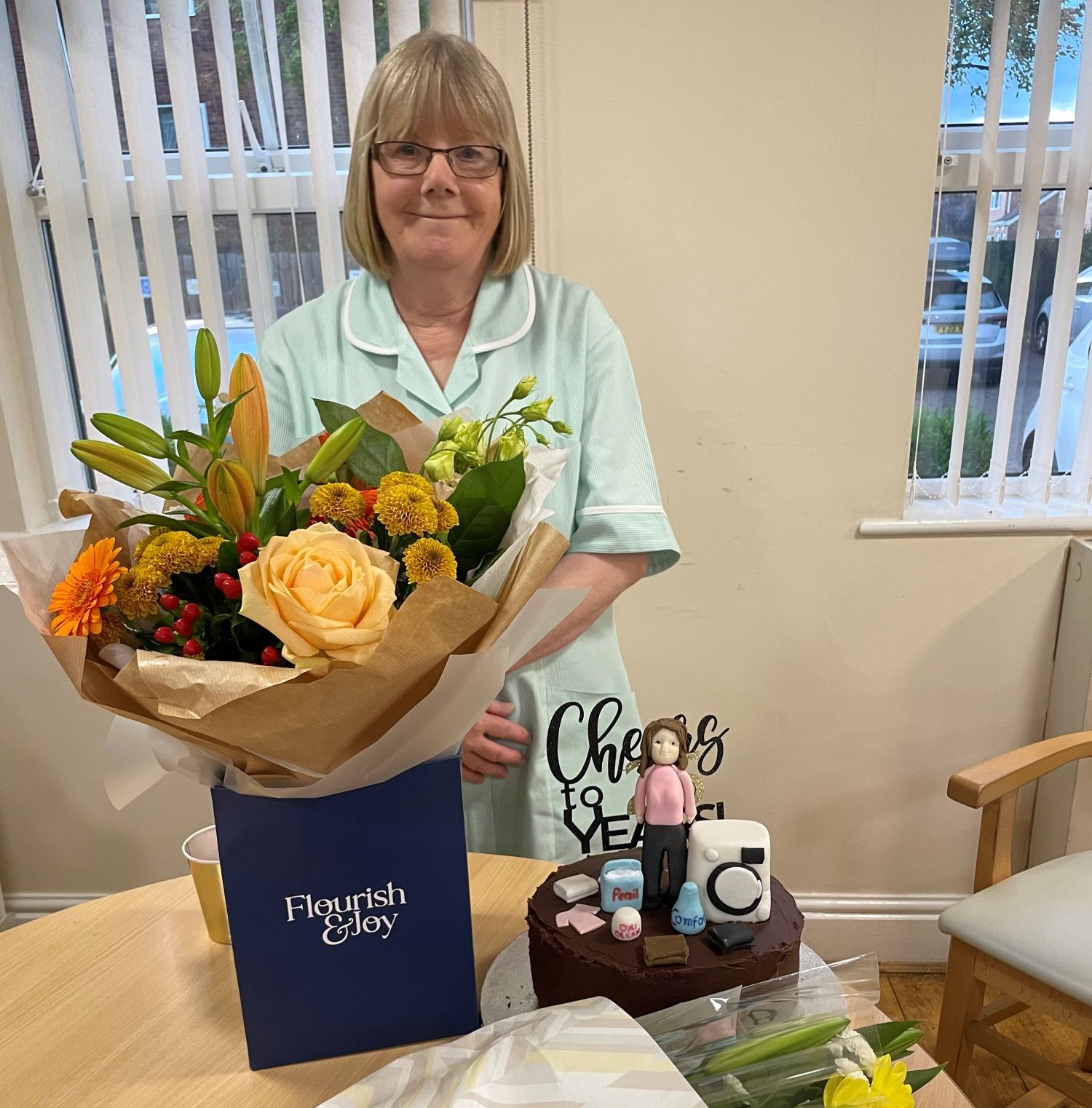 Ann Ruttle, Eaton Court Home Manager said 'one of our most loved and respected employees by all our staff. She is always willing to help other domestic and kitchen departments. Patty is welcoming to new starters, and nothing is too much trouble when looking after residents or residents' families. She is a valued member of the Eaton Court Team!'
Patty has spent the last 25 years with the Eaton Court team. We asked her what she did before she joined the home and she said she worked as a shelf filling assistant at Woolworths!
We asked Patty what a typical day in the life of a laundry assistant looks like. Patty explained that that she usually makes her rounds and collects the laundry in the morning, says hello to all the staff and residents and then takes it all back to the laundry room. She then cracks on with various different wash and dry cycles before having a break and some lunch, followed by some ironing and decreasing of items. Later, comes her favourite time of the day- delivering the clean laundry back to the residents, Patty said that this part always takes the longest, as she will often spend 10-15 minutes chatting to every resident. Once all the fresh laundry has been delivered to its rightful owners she will have a cup of tea and some biscuits with the other laundry staff, before tidying and prepping for the next day. Once all that is done she says her goodbyes and sets off home.
Patty's advice to recent new entrants for the role of laundry assistants is to 'be organised and open to helping'. Patty's co-workers said 'Patty always is available to check in with residents and makes sure they have everything they need'.
We asked Patty what she finds most challenging in her role and she replied with 'nothing, I just face whatever the day brings'. What a trooper! Patty's co-worker tells us 'She always goes above and beyond and takes a lot of pride in her work'
Eaton Court threw Patty a surprise party to celebrate her 25 years with the home! There was laughter and tears but most importantly, togetherness. Cheers to you Patty! Thank you for your long service!