Dedicated care home staff raise over £4000 during sponsored walk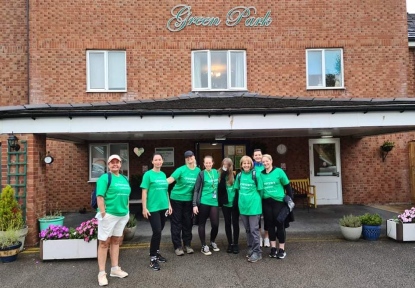 A team from Green Park Care Home in Warrington, Cheshire, recently completed a 6-mile sponsored walk from the home to the Golden Square Shopping Centre in Warrington town, raising a total of £4900.
Activity coordinators, Lisa Brakewell and Sharon Hockenhull, organised the walk with the aim to raise enough money to purchase a brand new sensory interactive tablet for the home. The state-of-the-art gadget can be used independently or for group activities and is easily adjustable to suit the needs of the user. This device boasts a variety of fun activities such as quizzes, colouring, virtual concerns, and can also be used to connect residents with their loved ones via virtual communication platforms, making it an incredibly valuable investment for the home.
The group of eight, along with family and friends of staff and residents, covered over 21782 steps and received a large donation of £4000 from a local company and friend to the home, Trinity Renovations, which exceeded the home's target and meant they were able to purchase the new device. Kieran Croughan, Director at Trinity Renovations, provided the home with the cheque last week during the home's celebrations.
Grace Oderinde, Deputy Manager, was overwhelmed with the donations and commented "I'm very proud of our staff here at Green Park. Everyone is amazed and incredibly grateful to those who supported our staff during their sponsored walk and made it possible for residents to benefit from the new interactive gadget."
Find out more about our care homes in Cheshire.