Baking Fun at Ashlea Mews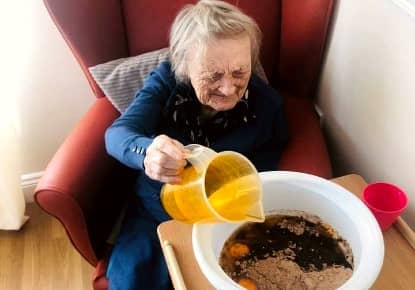 For most of the residents, this was something different as they remarked that they hadn't done much baking before however amongst the group there were a couple of experts who had spent a lot of time in the kitchen before coming to Ashlea Mews.
The group started off by mixing all the ingredients for a scrumptious chocolate cake before moving onto their second bake, a classic sponge. Resident May who doesn't usually get involved with activities, joined in the fun and the staff all agreed that is was lovely seeing her with a smile on her face, enjoying herself.
Margaret who was one of the star bakers told staff, "I loved baking when I was at home so it was lovely to do this activity today." Once the cake were baked to perfection, they decorated them with all their favourite sprinkles and then came tasting time. There was a room full of happy faces as they sat back with their cup of tea and enjoying their cake creations.
To keep up to date with news from the home, follow us on Facebook, Twitter, Instagram and YouTube.