Ashlea Mews Care Home Get into the Christmas Spirit by Visiting Azure Garden Centre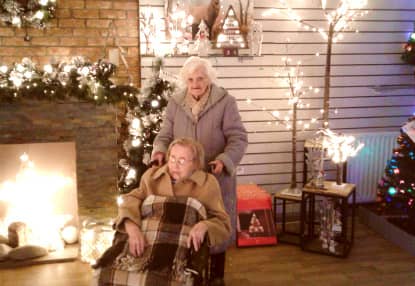 Residents from Ashlea Mews Care Home took a trip to the garden centre to see all the wonderful decorations.
Nothing says Christmas quite like a garden centre filled with lit-up Christmas Trees, residents from Ashlea Mews were very impressed when they saw all the wonderful decorations at Azure Garden Centre. Enid loved seeing all the different lights and couldn't stop talking about how amazing she thought they looked, "the displays were so beautiful," she told everyone back at the home.
The most special part of the day for our residents was feeding the reindeers, residents stood in front of the reined pens and held the food in their hands as the animals walked over and ate it. It was very exciting for the residents to be this close to the reindeers and they couldn't believe that they actually got the chance to feed them.
Before heading back to the home they stopped off at the café and enjoyed some cake and a cup of tea whilst talking about all the great things that they had seen and reminisced about past Christmases.
To keep up to date with news from the home, follow us on Facebook, Twitter, Instagram YouTube.