Arts & Crafts at Shevington Court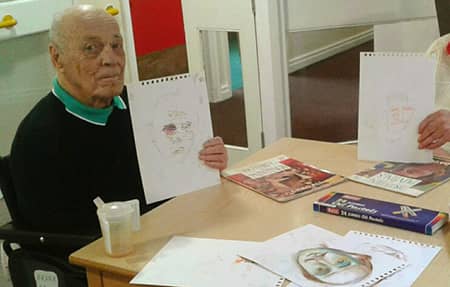 The benefits of keeping creative are limitless, that's why the residents at Shevington Court hold weekly Arts & Crafts sessions.
During a recent session, residents drew inspiration from an old art magazine and set out creating self-portraits. By using pastels and watercolours, participants created some brilliant and unique looking self-portraits!
"It has been incredibly interesting and I really enjoyed doing a self-portrait, it was certainly very different", commented Frank, one of the residents at Shevington Court.
"Everybody seemed to really enjoy the session so will definitely be holding more of them. Creative activities like these are a great way to encourage brain stimulation, whilst improving the residents cognitive motor-functions", said Michelle Hopwood, Activites Coordinator at Shevington Court.
We look forward to seeing what Shevington Court create in their next arts & crafts session!
To keep up to date with news from the home, follow us on Facebook and YouTube.