Bell Ringers At Penwortham Grange and Lodge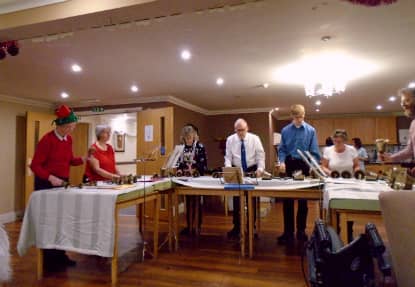 During the Christmas period, the bells were ringing at Penwortham Grange & Lodge, as the home was visited by the Higher Walton Hand Bell Ringers.
The group brought a vast variety of musical bells with them, ranging from a tiny bell, barely the size of a thumb, to a huge bell weighing a whopping 11 pounds! The bell ringers played a variety of memorable tunes that the residents were encouraged to sing along with. This included a beautiful rendition of "Silent Night" that everybody sung along to.
"Our residents were enthralled by the Bell Ringers performance. They enjoyed it so much they sat spellbound in the lounge, you could hear a pin drop when the bells had stopped", commented Sue Hoyle, Activity co-ordinator at Penwortham Grange & Lodge.
"Everybody thoroughly enjoyed the performance and are looking forward to them visiting the home again soon", Sue added.
To keep up to date with news from the home, follow us on Facebook and YouTube.