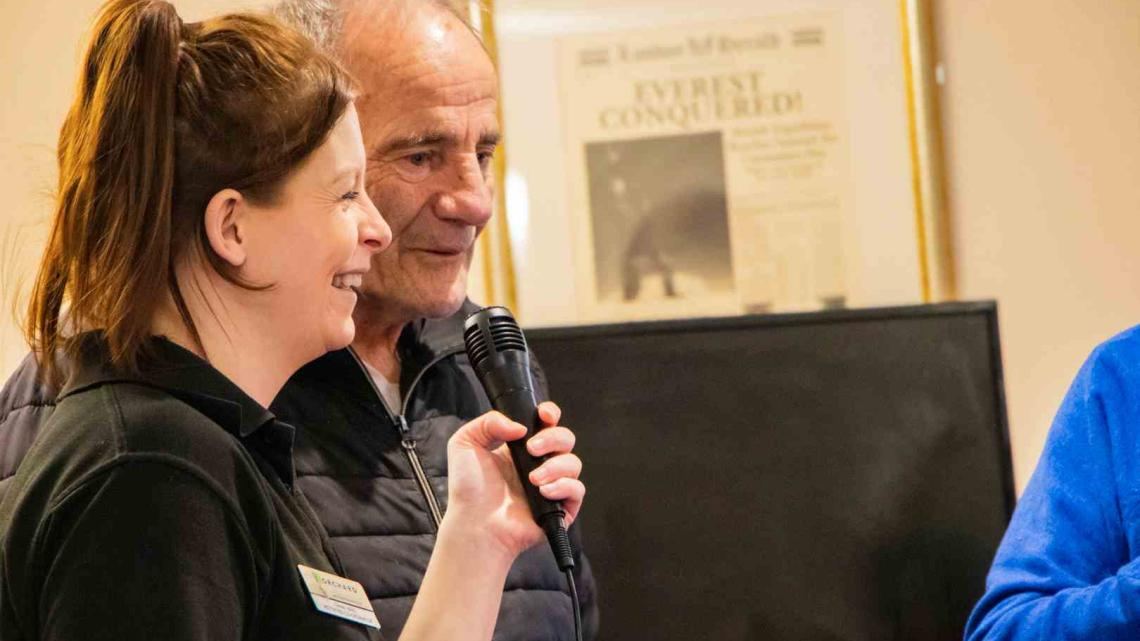 Debbie Burnett - Orchard Career Progression from Carer to Manager
"I'd always been passionate about working in 'care' so when the children got older, I thought, 'it's now or never.'"
When Debbie Burnett joined Orchard Care Homes in 2012, she had no idea that her job as a Bank Care Assistant would take her on a 12-year journey to her position as Care Home Manager. Working her way up through several positions at Green Lodge Care Home in Billingham, Stockton-on-Tees, today, Debbie manages a 55-strong team and is highly regarded not only by her colleagues but by the residents in her care and their families.
At Orchard Care Homes, people development is a huge priority and employees are provided with numerous career opportunities, highlighted through investment in training to enhance skills and to progress people in their options. To acknowledge hard work, a Learning and Development Programme is in place across all 23 care homes, dedicated solely to supporting its employees.
Equipped with transferable skills and a genuine desire to help people, Debbie started her journey and in doing so has achieved a number of nationally recognised qualifications including a Level 2 NVQ in Care, a Level 3 NVQ and in her time as Care Home Manager, has been working towards her NVQ Level 5. Debbie says: "Everyone at Orchard Care Homes has personal development meetings with their line manager, to keep track of what they're doing well and to recognise where they might need any support. It's also a chance to set new goals and to help people to reach their full potential."
With every member of staff completing a mandatory training course at the time of his or her induction, tailored to each person, the courses are easily accessible online and include a range of modules. Other programmes include practical face-to-face training, workshops, distance learning, workbooks and observations, all designed to ensure people with different learning styles are catered for.
As a busy mum to two grown-up children, Debbie understands the challenges of having a satisfying career while raising a young family. "I'd done various jobs such as working in a school before I worked at Orchard, however, I'd always been passionate about working in 'care', so when the children got a bit older, I thought, 'it's now or never.'
"In the early days, my job as Bank Care Assistant meant I could work around their schooling and it also meant that me and my husband who worked on nights, could share the childcare. We were like ships in the night back then but between us - we made it work."
There are numerous job opportunities within Orchard Care Homes, ranging from Care Assistants, Cooks and Housekeeper roles, to Activity Coordinators, Domestic support and Administrators.
As Care Home Manager, Debbie says it's often the simpler aspects of what she does that are just as rewarding as the managerial tasks and prioritising the care of her people.
"One of the most satisfying parts of my job is knowing that I'm making a difference in someone's life, which might be reflected in a resident's smile, a simple wave, or a thank you."
The turning point in Debbie's career came during the pandemic which resulted in personnel changes at Green Lodge Care Home. Recognised for her skills and experience, Debbie was encouraged to apply for promotion.
Three years on Debbie says: "As a Care Home Manager, every day is a school day and it's important never to make assumptions about how much you know.
"At Orchard Care Homes I've always received the best support from my seniors as well as my team and I wouldn't be able to do it without them. Orchard is like one big family and the people here are always supportive and ready to help."