Cherry Trees Care Home Bake Some Spooky Treats as Part of Their Halloween Celebrations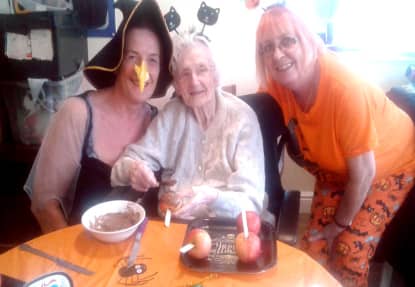 Residents and staff at Rotherham care home Cherry Trees had a jam-packed day filled with fun activities for Halloween.
The staff got into the Halloween spirit by dressing up in fancy dress costumes, they impressed everyone with their recreations of owls, witches and pumpkins. Some of the residents joined in with dressing up and put on their own costumes whilst others admired from afar and offered compliments to the rest.
The group spent most of their day baking up some sweet and spooky treats in honour of the day, the smell spread throughout the home and everyone couldn't wait to tuck in. Residents helped staff combine the mixture for some blood-red cupcakes and then moved on to everyone's favourite Halloween snack, chocolate apples!
Once everything was made they got stuck into enjoying the treats and relished in this. They sat back and took part in arts and crafts whilst eating cupcakes and biscuits. The day was a huge success with everyone was left in a great mood.
To keep up to date with news from the home, follow us on Facebook, Twitter, Instagram and YouTube.