Virtual street view technology brings beach day to Cherry Trees Care Home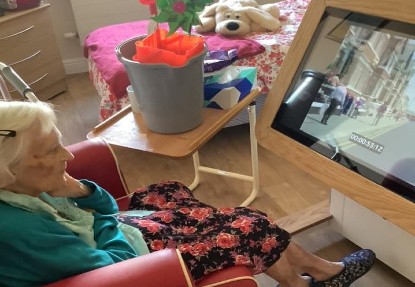 After a challenging year, Cherry Trees Care Home in Rotherham, South Yorkshire, recently decided to put a positive spin on their daily activities schedule and instead, surprise residents with their very own indoor beach day, with the help of their brand new, state-of-the-art, interactive gadget.
Thanks to the team's ongoing commitment to fundraisers and the generous donations that they have received from the local community, the home was able to invest in a large flatscreen mobile tablet, which can be used independently or for group activities. The easily adjustable, user-friendly device, boasts a variety of fun activities such as quizzes, colouring, virtual concerts, and can also be used to connect residents with their loved ones via virtual communication platforms.
After being introduced to their latest gadget, residents reminisced about their childhood days, when they would visit Blackpool with their family, by taking a virtual walk through the streets of the popular holiday destination. The table, which can be easily positioned to suit the user's needs, proved to be especially beneficial for residents with dementia as seeing sights from their younger years provided them with a sense of familiarity and comfort.
The day was jam-packed with fun activities such as sandcastle building with buckets, spades and seaside wind toys. To finish off the day, everyone enjoyed a delicious fish and chips dinner, followed by dessert supplied by the local ice cream van 'Steve's Whippy'.
Residents sat and enjoyed their treat whilst they remarked on how much they benefitted from their interactive fun. Barbara Spafford, resident, told staff "Thank you so much for a lovely day. It was really nice to talk about our past visits to the seaside and tuck into fish and chips for dinner and the best ice cream in Rotherham for pudding."
Sharron Whaley, Home Manager, was touched by how much the residents enjoyed their beach-themed virtual activity. "Everyone had a lovely day at 'Cherry Trees Beach' and it was amazing to revisit memories with our residents. The interactive table was a big hit and the device is clearly positively impacting the resident's moods and their relationships with care staff, friends and family. We'd like to offer a huge thank you to everyone who contributed to this amazing gift to our home!" she said.
Find out more about care homes in West Yorkshire.