Table Top Games at Penwortham Grange and Lodge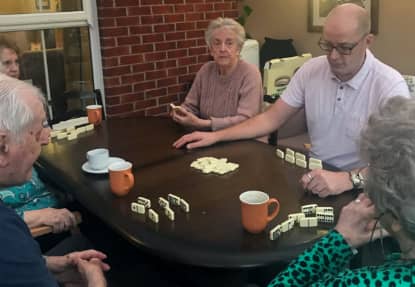 Residents at Penwortham Grange & Lodge recently had a fun filled day, with variety of different tabletop games.
The day started with a friendly game of bingo, which had residents competing for the coveted box of chocolates! Bingo got everybody in the mood for a day of friendly competing, with one resident Tony, cheering every time he matched a number, which had the group in hysterics.
Also in attendance was one of the resident's sons Michael, who won the game of bingo with a full house! He generously shared his winnings of chocolate with the group.
Next on the gaming agenda was a quick game of cards followed closely by quite a few games of dominoes! Michael taught the residents how to play and was such a hit; they carried on playing until the end of the day.
"The residents got quite animated whilst they were playing. Lots of jokes were being told and there was a lot of conversation from around the table, it was an absolute delight to see", commented Sue Hoyle, Activities Coordinator at Penwortham Grange & Lodge.
The day was filled with so much fun and laughter, that residents are eagerly awaiting the next game sessions!
To keep up to date with news from the home, follow us on Facebook and YouTube.