Sutton Hall & Lodge Host A 1950's Style Street Party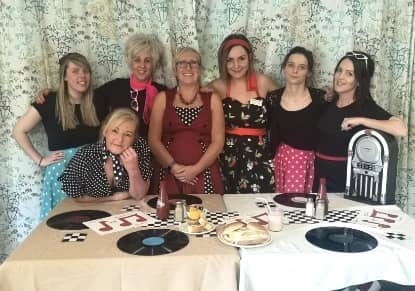 Sutton Hall & Lodge got their party shoes on and celebrated 1950's style!
The staff at the home got in to the party spirit and dressed up in outfits inspired by the 1950's, alongside this the group all enjoyed some rock and roll music and reminisced about their youth, "I remember all these songs!" Pat told everyone, as she sang along. The music got everyone in the party spirit, with some of the group even getting on to the dance floor. Freda particularly enjoyed this as it reminded her of how much she used to love dancing.
The purpose of this party was to take residents back in time and give them the chance to let their hair down and have some fun. In tribute to the 1950's hotdogs, burgers and milkshakes were served much to the pleasure of the residents, "It just all looks so amazing!" Pamela exclaimed, overall the party was a huge success and everyone had heaps of fun.
To keep up to date with news from the home, follow us on Facebook, Twitter, Instagram and YouTube.