Sutton Hall and Lodge take a trip to the Five Rise Locks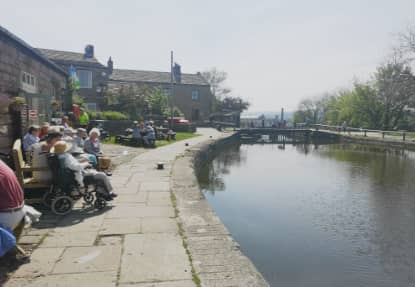 Sutton Hall & Lodge Care Home made the most of the glorious weather recently with some fun in the sun!
A group of staff and residents decided to take an outing to Bingley and visit the Five Rise Locks. Whilst there they basked in the sun, took in the glorious views of the canal and enjoyed some lunch, "this view is heaven", said resident Freda.
The residents relished in chatting to dog walkers passing by and even got to wave at people holidaying on the boats on the canal. The trip left smiles on everybody's faces, with resident Peggy expressing "this is marvellous, I feel so spoilt".
No trip in the sun is complete without some ice cream so the group made sure to stop off for a lovely Yorkshire Dales ice cream before heading back through the countryside to go home.
To keep up to date with news from the home, follow us on Facebook, Twitter, Instagram and YouTube.