St Helen's Meets Shevington Court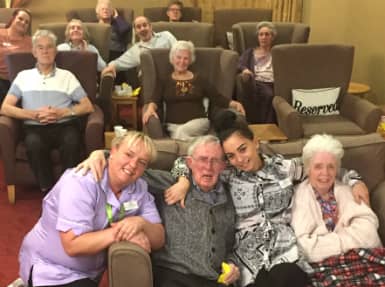 This week Shevington Court residents took a trip to St Helens Hall & Lodge with their new activities co-ordinator Kimberley.
The residents of the two homes loved having the chance to meet each other and spend time together and are looking forward to doing this more often.
This meeting was organised by the activity coordinators of both homes, Jackie the activity co ordinator of St Helens told us, "Kimberly is full of life and I'm sure she will do some great things in her new role at Shevington Court."
Whilst at St Helens the group enjoyed a cinema afternoon, they decided to watch The Notebook. Resident Frank was so happy and immediately asked when he could come and visit again, Frank got very emotional when Jackie told him he could come at any time.
The group has since had another meeting, enjoying a coffee morning and can't wait to arrange more gatherings.
To keep up to date with news from the home, follow us on Facebook, Twitter, Instagram and YouTube.