St Helen's Hall & Lodge have Double Birthday Celebrations in Their Home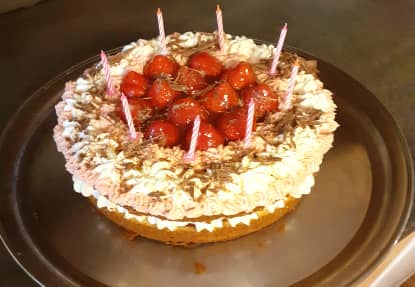 Betty and Sheila both turned 80 on the same week so St Helen's Hall & Lodge Care Home hosted two parties for them.
It was a very exciting week in the Merseyside home as Betty and Sheila both turned 80, the staff did everything they could to make both the ladies feel as special as possible on their big days and it's safe to say that they succeeded!
Many of the residents from other units gathered together for the celebrations, a spread was put on of snacks, non-alcoholic wine and beer and of course birthday cakes. The home was decorated with balloons, banners and streamers and both ladies were very impressed by the decorations.
For Sheila's celebrations, a jive singer was invited as this is Sheila's favourite genre of music, she was so happy to see the entertainer and got her friends up on their feet to dance along. Entertainers were also present for Betty's party, as ladies dressed up in vintage costume from a few eras ago and performed tributes to different bands,
The ladies friends and families also attended the festivities and there were smiles all around.
To keep up to date with news from the home, follow us on Facebook, Twitter, Instagram and YouTube.